NOTE: Requires Phraseology 2.0 or greater.
Phraseology's Arrange and Inspect features can be integrated with the powerful iPad text editor Editorial, via it's workflows feature.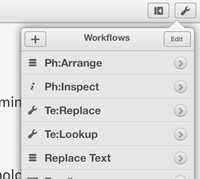 To integration, visit these pages on your iPad, and install the following three workflows in Editorial:
Ph:Arrange : This action will take a text selection from Editorial, open it in Phraseology in the Arrange view. You can drag and drop to re-order paragraphs and sentences in Phraseology, and when you tap "Done", the resulting text will be sent back to Editorial and replaced inline.
Ph:Inspect : This action will send the current text selection from Editorial to Phraseology and open it in the "Inspect" view, calculating statistics, readability scores and doing a linguistic breakdown on the text. When you press "Done" in Phraseology you will return to Editorial – no changes will be made to your text.
Replace Text : This workflow should not be called directly, but is required for the Ph:Arrange workflow to be able to send back the arranged text and have it replaced inline in Editorial.
Note that neither of these actions result in any text being saved in Phraseology.
UPDATE: Ole Zorn, developer of Editorial, posted a tweaked version of the Ph:Arrange workflow that does not require the "Replace Text" workflow.