Smile Software's TextExpander Touch is a utility for iOS and Mac that allows you create snippets of text that are automatically expanded when you type shortcuts. Drafts fully supports TextExpander Touch integration, and it can be a great time saver.
To enable TextExpander Touch support in Drafts, visit Settings.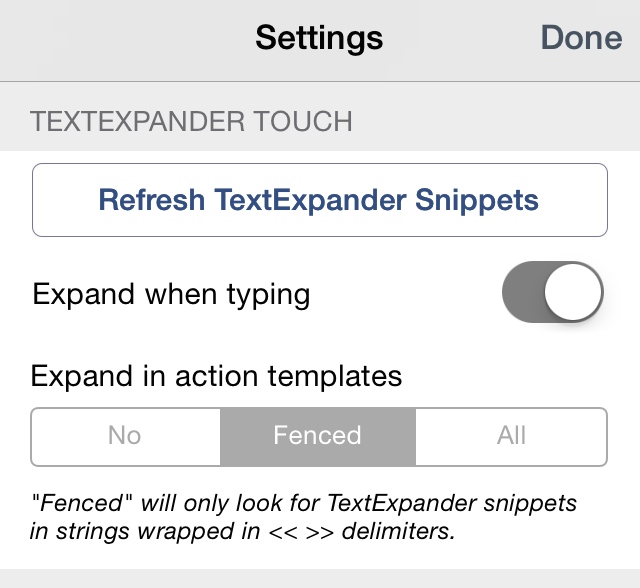 Before you can expand TextExpander shortcuts in Drafts, you will have to load the snippet library by tapping the "Refresh TextExpander Snippets" button. This will briefly jump over to the TextExpander app, and then return to Drafts. This "Refresh" will need to be repeated periodically to load new snippets you have created in TextExpander.
There are two additional settings available. Normally you will leave "Expand when typing" enabled. This controls whether TextExpander will expand your shortcuts while you actually typing in a draft.
The "Expand in action templates" setting controls whether Drafts will attempt to expand shortcuts that are in the text of fields in custom actions AT THE TIME THE ACTION IS RUN. This is a powerful feature to allow you to use TextExpander to create on-the-fly timestamps and other text in action templates (and other fields, such as Dropbox file names, paths, etc.).
If you do not plan to use TextExpander shortcuts in action templates, this setting should remain set to "No". If you DO plan to use shortcuts, the "Fenced" setting is highly recommend. Using this setting, you wrap the TextExpander shortcuts you want expanded in <<>> braces to mark them for expansion when writing your action templates. So, for example, if you have a ",,ts" shortcut that expands to a timestamp, in your action you would write "<<,,ts>>" to have it expanded.
The "All" setting is available for power users, but it not recommended and is a common cause of conflict running actions. This will look for TextExpander shortcuts in ALL the text in your action templates and fields. This is only a good idea if you carefully create your own delimiters built into all shortcuts you create in TextExpander. Otherwise, you might get unpredictable results. For example, if you have a "@gmail" shortcut that expands to "myname@gmail.com" – and you create a "Email myself" email action address to "myname@gmail.com" – if you set "Expand in action templates" to "All", at the time the action was run, the address would be expanded and become "mynamemyname@gmail.com.com" and the action would fail.